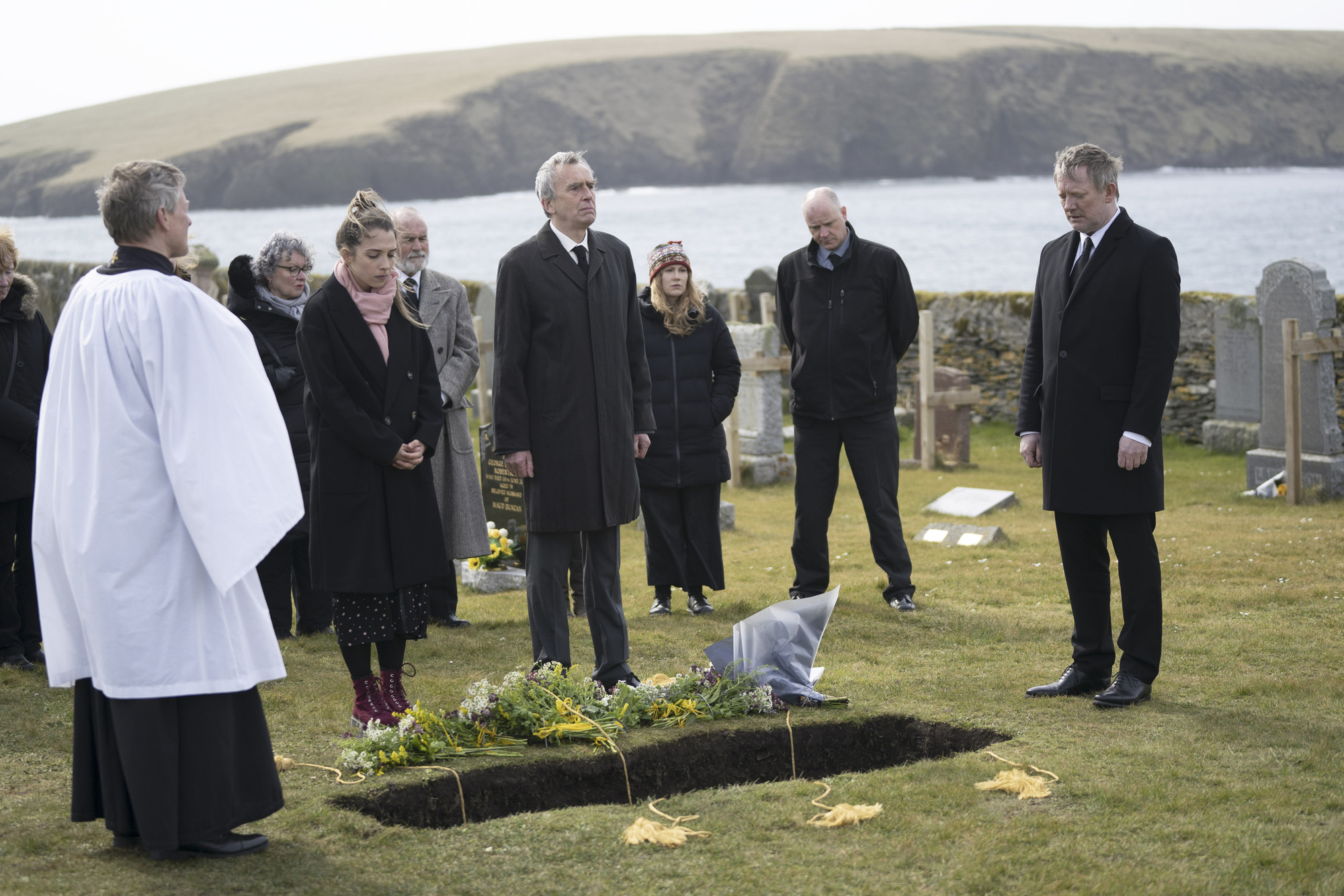 They're not messing about this time. In Shetland series six, death, grief and terror are the order of the day from sunrise. Maybe that's what happens when you have to shoot prime-time TV drama during a pandemic, as was the case here. The result? A bloody good start actually, and in more ways than one.
A weel-kent lawyer takes two bullets in the chest on his doorstep in broad daylight. The killer could be almost anyone; our victim has spent the last 20 years dragging local folk through the courts, so he has his fair share of enemies. He has also just delivered the controversial release of murderer Donna Killick, whom viewers might remember from an earlier run of the show. More to come there, surely.
This spooling back says something about the audience for Shetland. We're expected to know the whole story, the long history going right back to where it all started. It's a bold and canny choice by the producers, one that lets us be more than mere viewers. Like we too are part of the action.
And why not? After all, everyone in Shetland knows everything about everyone else. Or at least, they think they do.
We know all the main characters so well now that introductions would be a waste of time. DI Perez takes the limelight of course, with Douglas Henshall oozing ease and confidence as he gives a masterclass in acting with the face alone. The way he can move a cheek by just a fraction, blink for a second too long, or simply breathe in deeply reveals exactly what he's thinking – and feeling.
The latter seems too rich a thread not to see developed here. If Shetland can take the time to explore male vulnerability, then all the power to its creators.
Poor Perez does look absolutely done in though, and no wonder. He has just buried his mother and is trying to support his elderly father who is devastated by grief and suffering from early stage dementia.
On top of all this, the DI has a gruesome new murder to solve and a growing list of dodgy potential suspects to fathom. Thankfully his sidekicks Tosh and Sandy are back and, despite the cold, still wearing the same gear they were six years ago.
There's a tantalising crop of new characters here too, many with names more Scottish than a sporran. Da isles are teeming with Merrans, Nivens and Struans, right enough.
Particular kudos to the writer who dreamt up the Nietzchean incel hacker-type in Fraser Creggan. They're all over the hills, these lads. Poor Fraser. He's definitely not the murderer but you wouldn't want to let him anywhere near your WiFi.
You might also want to avoid doing anything with a drone. Unless, that is, you are the director of photography for this show, who seems very keen on wee flying toys.
Then again, when you can work a drone into the actual plot, as we see here in the character of the oil rig diver, then who am I to, ahem, drone on. With his fate unclear as episode one quite literally blows under pressure, we are left with a suitably grisly and tantalising cliffhanger.
Part two of the murder mystery will be broadcast next Wednesday at 9pm on BBC One. Part one is available on iPlayer.