LIBERAL Democrat candidate for Shetland Beatrice Wishart has called on the Scottish Government to provide urgent clarity around future coronavirus restrictions in the islands.
It has been a month since first minister Nicola Sturgeon announced plans to ease restrictions on the Scottish mainland from 26 April.
At the same time, she confirmed that the Scottish Government would consult islanders on how to ease restrictions in the islands, with a trade-off including a travel ban mooted.
"Every day without clarity is another damaging day for businesses. Folk in Shetland are yet to see any clarity from the Scottish Government on what it intends to do," Wishart said.
"The murky waters that we are currently in means there is no opportunity to plan ahead and lives continue to be put on hold.
"There is not one person who is not being affected by the current restrictions so I would have hoped the Scottish Government would be more prompt in providing information."
---
SCOTTISH Conservative candidate for Shetland Nick Tulloch has committed to delivering record funding for the NHS as his party pledges that a Tory led government in Scotland would increase support for health by two per cent above inflation or UK Government Barnett consequential funding, whichever is higher.
Tulloch said Scottish Conservatives' plans would give an extra £2 billion of funding a year by the end of the next parliament, protecting local services into the future.
"Over the last year, our heroic frontline staff in NHS Shetland and right across Scotland have gone above and beyond and deserve our utmost thanks," he said.
"This pledge by the Scottish Conservatives would be enshrined in law to give NHS Shetland the required funding to tackle the backlog that has only grown during the pandemic.
"The biggest threat to our NHS is the SNP's plans to break up the United Kingdom, which would put funding for vital public services at risk."
---
SNP candidate Tom Wills has welcomed the Scottish Government pay offer of four per cent for Scottish NHS workers.
"It is difficult to reconcile the one per cent that the Tories have offered NHS workers with the dedication and the personal risks that these workers have been exposed to while tackling the pandemic," Wills said.
"If the Tories can find eye-watering sums to pay for a failing privatised track and trace system, non-existent Brexit ferries and weapons of mass destruction, then surely they can find more to reward the NHS. If not this year, then when?"
---
THE SCOTTISH Greens are calling on Shetland Islands Council to follow Glasgow City Council's example and divest from fossil fuels.
The party's lead candidate for the Highlands and Islands Ariane Burgess said the council had an opportunity to show leadership in ending its pension fund investments in fossil fuels.
According to a report by Friends of the Earth Scotland and a coalition of environmental groups, the SIC's pension fund has almost £20 million invested in fossil fuels.
Burgess said: "Public money should be used for the public good. People in Shetland don't want to see these pension funds exacerbating the climate crisis, particularly when this money could be invested into socially responsible areas like green energy production, house building and public transport improvements."
"If Glasgow can end its support, then so can Shetland. Divestment is only the first step to tackling the climate emergency. The Scottish Greens will invest in a green recovery from the pandemic that creates 100,000 jobs while reducing Scotland's emissions."
---
RESTORE Scotland candidate in Shetland, Brian Nugent, has highlighted how the EU Parliament is using taxpayers' money on an exclusive vaccine centre for its 705 MEPs and 5,000 staff.
The party campaigns for Scottish independence and is opposed to any attempts to rejoin the European Union.
Nugent said the move to create an exclusive vaccination centre was "remarkable, indulgent even, when citizens of the EU are having difficulty getting access to vaccines".
"An irony that might have escaped the MEPs, as they voted to look after themselves, was that the vaccines themselves are to be provided free of charge by the Belgium health authorities," he said.
"The SNP, the Greens and Alba all want Scotland to become independent, and then hand that independence over to the EU, but why? Voters should ask them to justify their position. At this point in time, why would anyone want to join the EU?"
---
REFORM UK Scotland, the party that wants no further lockdowns and a reformed Scottish Parliament, has said it supports calls for the inclusion of medium-sized parties in TV debates.
"We are (…) calling for the inclusion of medium-sized parties that are standing in the Holyrood elections in TV debates – if not alongside the five 'main' parties, then in a separate debate specifically for parties that are fielding a substantial number of candidates," the party said in a statement.
Its lead candidate for the Highlands and Islands Sandra Skinner added: "Should the mainstream media continue to protect the establishment parties from being challenged, we will seek to work with other parties including All For Unity, the Scottish Family Party, UKIP, Freedom Alliance, and the Alba Party, to facilitate an online debate of the alternative parties that the Scottish people have to choose from on 6 May.
"The Scottish people deserve a real choice and a real chance to shake Scottish politics up for good!"
---
INDEPENDENT candidate Hazel Mansfield, standing for the Highlands and Islands region, has been protesting for equal representation in all decision making.
Standing on a ticket of ending violence against women (EVAW) she said a vote for her would be a first step towards "equal democratic representation at 50 men for every 50 women in political office".
"The issues are the same as when I arrived here 25 years ago," she said. "We are still asking, 'where are our fish?', 'where are our young people' and 'where are our women?"
"In our post-Covid response building resilience, we need different decision-making across the remote rural communities. (…) We can do this by voting for women.
"We can do this by widening access and reducing social isolation and by integrating back-to-normal with building-back-better and paying-it-forward."
---
To find out more about all of the candidates standing in the election visit our Scottish Parliament election 2021 page below.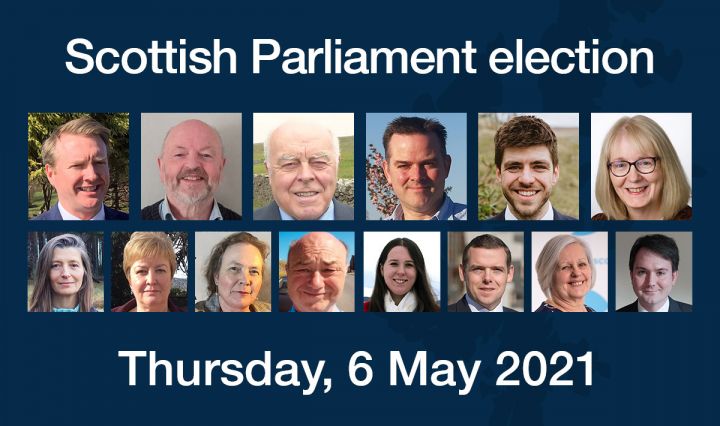 Become a supporter of Shetland News
Shetland News is asking its many readers to consider start paying for their dose of the latest local news delivered straight to their PC, tablet or mobile phone.
Journalism comes at a price and because that price is not being paid in today's rapidly changing media world, most publishers – national and local – struggle financially despite very healthy audience figures.
Most online publishers have started charging for access to their websites, others have chosen a different route. Shetland News currently has over 440 supporters who are all making small voluntary financial contributions. All funds go towards covering our cost and improving the service further.
Your contribution will ensure Shetland News can: –
Bring you the headlines as they happen;
Stay editorially independent;
Give a voice to the community;
Grow site traffic further;
Research and publish more in-depth news, including more Shetland Lives features.
If you appreciate what we do and feel strongly about impartial local journalism, then please become a supporter of Shetland News by either making a single payment or monthly subscription.
Support us from as little as £3 per month – it only takes a minute to sign up. Thank you.
Support Shetland News