A FIFTY eight year old man has been fined £520 after being found guilty of attempting to supply heroin to a severely unwell drug addict at the Gilbert Bain Hospital.
Neil Scott, of Lerwick's Bruce Crescent, denied attempting to supply diamorphine on 8 January last year despite agreeing the crown's case in its entirety – claiming he was unaware that a bag with between £60 and £70 worth of the class A substance was hidden in a DVD case that he dropped off at the hospital for the patient.
That defence did not wash with Sheriff Ian Cruickshank, who found him guilty after an hour-long trial at Lerwick Sheriff Court on Thursday morning.
The court heard that Scott had encouraged the patient, who subsequently passed away, to go to hospital for treatment as his addiction had resulted in him becoming seriously ill.
On 8 January he dropped off a bag containing a DVD player and several DVD films, including a copy of the American gangster film Once Upon a Time in America.
Scott had also written a letter to the patient stating it was his "number one film" and he should "look at that one first", with the word "first" underlined.
Scott admitted all of the items in the bag belonged to him, but claimed that he had lent that specific film to the patient several weeks earlier and retrieved it from his house before taking it to the hospital.
"I know how it looks", Scott acknowledged, but insisted he did not know that the 1.3g bag of brown powder was hidden inside the DVD case.
While questioning Scott, who was the only witness to provide evidence, procurator fiscal Duncan Mackenzie told the defendant "you're lying". If his assertions were correct, the fiscal said, it would have meant he "must be the victim of the most unfortunate coincidence".
Scott said he had been trying to get the patient to stop taking heroin and it would have made no sense to then supply him with the substance.
The bag – which had been dropped off at the hospital reception due to Covid-19 restrictions in force at the time – was intercepted by medical staff because the patient had said the pain relief he was receiving following an operation was insufficient and they suspected he would attempt to obtain diamorphine.
Defence agent Tommy Allan conceded that the crown's case that Scott knew what was "the most likely interpretation" but "that's not what happened here".
While accepting some of his client's testimony "stretches credibility", he said his client's position was that he did not know there was heroin in the DVD box and if he had been asked to supply the patient "even as an act of mercy" he would not have done so.
Sheriff Cruickshank found Scott guilty of attempting to supply heroin, saying that any such offence was a "serious matter" but noting that he had no previous drugs-related convictions he fined him £500 with a £20 victim surcharge.
Space2face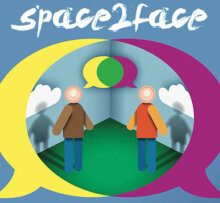 Space2face Shetland is an independent and confidential service which uses Restorative Justice and the arts to bring those harmed by crime or conflict and those responsible for the harm into communication. We enable everyone affected by a particular incident to play a part in repairing the harm and finding a positive way forward.
If you would like to reach out to us, please contact us via e-mail info@space2face.org or mobile 07564 832467.
If you would like to know more, visit our website www.space2face.org, or our Facebook page #space2faceshetland.
---
The project is also currently fundraising to secure office space in Shetland's brand-new creativity and wellness centre, The Mission. If you're interesting in getting involved, or making a donation, head over to www.space2face.org/how-you-can-help