COUNCIL tax and housing rent in Shetland is set to rise by 4.5 per cent in the next financial year.
The decision was made at a meeting of the full Shetland Islands Council (SIC) on Wednesday.
It comes at a time when SIC grapples with significant budget challenges for 2023/24, with changes to services likely when decisions are made in March.
A report to elected members on Wednesday said the local authority is facing a funding gap of nearly £5 million in the next financial year.
Councillors were told that the recommendations to increase tax and rent were "not taken lightly" by officers due to the cost of living crisis.
Shetland Central member Ian Scott moved for council tax and housing rents to be frozen for another year but he did not gain enough support when it came down to a vote, which ended up 18 against two – with Alex Armitage abstaining.
Only Shetland North councillor Tom Morton, who represents Labour, supported Scott.
The decision came a day after the council received an assurance that a deficit of more than £5 million in running its inter-island ferries in 2023/24 would be covered by the Scottish Government – but that was already factored into the SIC's financial planning.
SIC officers had recommended elected members set a council tax rise of 4.5 per cent, which would bring in £463,788 more over the year.
Council tax is collected by every local authority and is used to fund local services like waste collection.
Last year the rate – which is dependent on the 'band' of a property – was frozen by councillors.
The SIC undertook a survey prior to Wednesday's meeting, asking the community for their views on the idea of rising the council tax.
More than 78 per cent of the 881 respondents said they would support a rise to pay for services.
The support was split fairly evenly between all the options, from no rise to seven per cent.
Around seven in ten also said they agreed that some major projects would need to be delayed while "markets remain overheated".
Roughly 80 per cent said they agreed that the council should change its approach to recruitment – firstly by checking whether vacant posts really needed filled.
There was even more support for the idea of the council making sure charges to service users are "realistic and appropriate", and that the SIC should explore new sources of income – such as using school facilities for other purposes during holidays such as caravan spaces in carparks.
There was less support – but still a majority at 66 per cent – for the council needing to stop drawing so heavily on reserves to deliver services.
A three per cent increase was recommended for council house rent, but Lerwick South member Cecil Smith successfully proposed that it be increased to 4.5 per cent.
The recommendation of three per cent came with a reduction in planned housing maintenance, but there was some concern among councillors about this and the hope was that a greater rent rise would result in more repair work.
At Wednesday's meeting finance manager Paul Fraser said the council acknowledged the cost of living pressures on the community.
But warnings were made about the longer term impact of not increasing tax and rent – particularly with inflation rising significantly in recent times.
The meeting heard that this was especially important following the Accounts Commission's concerns over the council's financial sustainability last year.
Fraser also said he understood that other local authorities in Scotland were considering much higher council tax rises – in some cases seven or eight per cent.
Shetland's rate is also thought to be among the lowest in Scotland.
There was also a recognition in the chamber that there were a number of support schemes available at the moment for those struggling.
"I think members can be reassured that we do work hard with those groups," Fraser said.
On one side of the debate was Scott, who successfully led a revolt of sorts last year by pushing through a freeze as the cost of living crisis emerged.
With the council's reserves valued recently at £377 million, he repeated his view that it should be used to help those in need.
Referencing some of his colleagues' manifestos from last year's elections, Scott said: "We have got within our gift the ability to help out people. The people who voted for us."
He was supported by Morton, who – when speaking about the reserves – said the "rainy day is here".
Referencing a DIY effort to offer free food to folk in need in Northmavine, the councillor added that it is "raining buckets" in the parish.
"The bottom line at the moment is not financial, but moral," he said.
Morton also mentioned the term Shetland PLC – but said what was needed was some TLC.
But on the other side of the debate councillors were conscious about finances – especially with increased inflation and the concerns from the Accounts Commission.
Cecil Smith said he felt the council tax and housing rent item was "when we start making difficult decisions" on the budget.
"I feel that we can't continue to top up everything by going into the reserves," he said.
Shetland Central member Moraig Lyall said since the decision to freeze last year there have been many new schemes to support people struggling financially.
"In the year since then multiple schemes have been put in place," she said.
Lyall, who advocated a change to the wider council tax system, also said if the council does not adjust its spending it may find itself "in even greater problems in years to come".
Lerwick South member John Fraser added that an "element of perspective" was needed regarding the increases – saying he would hope the council continues to explore other ways to support those in need.
Depute leader Gary Robinson warned against councils straying into welfare issues – something he said is largely a matter for government – while Shetland Central's Davie Sandison also raised serious concern about the cumulative impact of freezing council tax.
Robinson added that through rising housing rent fees constituents could have council house repairs and renewal carried out.
South councillor Allison Duncan also claimed the Accounts Commission and the Scottish Government would be watching the council's actions "like hawks".
He also stressed the importance of the Citizens Advice Bureau in offering help to people struggling with the cost of living.
Lerwick South member Dennis Leask, who chairs the development committee, stressed the case for investing in housing repair – saying there was a "duty" to maintain them.
Meanwhile Armitage, who represents the Scottish Greens, said he was worried about the levels of hidden poverty in Shetland and that there were folk who may miss out on cost of living support measures.
Ryan Thomson, who represents the North Isles, said he knew the ramifications of his vote in favour of freezing council tax last year – but added that there is now more support for people now.
During debate councillors also spoke up against calling the council's investments "reserves" – with some also criticising the analogy that they are for a "rainy day".
The council uses a portion of these funds – which are invested long-term – annually to fund services and balance the books.
When it came down to the vote, at the end of an hour and a half, Scott's motion to freeze council tax and housing rent was soundly beaten.
Details of the council tax charges for 2023/24 can be found here.
Space2face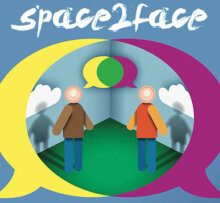 Space2face Shetland is an independent and confidential service which uses Restorative Justice and the arts to bring those harmed by crime or conflict and those responsible for the harm into communication. We enable everyone affected by a particular incident to play a part in repairing the harm and finding a positive way forward.
If you would like to reach out to us, please contact us via e-mail info@space2face.org or mobile 07564 832467.
If you would like to know more, visit our website www.space2face.org, or our Facebook page #space2faceshetland.
---
The project is also currently fundraising to secure office space in Shetland's brand-new creativity and wellness centre, The Mission. If you're interesting in getting involved, or making a donation, head over to www.space2face.org/how-you-can-help