THE ORGANISERS of Living Lerwick's Peerie Jubilee Spree held in Commercial Street on Saturday have thanked the community for coming out in strength to enjoy music, games and to soak in the atmosphere.
The organisation's chair Steve Mathieson said that in addition to the Jubilee celebrations the spree was also a thank you to the Shetland community for supporting local businesses over the recent challenging times.
Project manager Emma Miller said: "It was just brilliant to see the community coming together and being able to enjoy a public event like this with smiling faces everywhere.
"I want to express our sincere thanks to the Shetland Gymnastics Club and Lerwick Amateur Swimming Club for their volunteer help with set up, take down and stewarding and to the others who dropped in to help out throughout the event."
---
SHETLAND has won the junior inter-county against Orkney by 157 points to 142.
After losing in the athletics 59 to 38 and a 0-0 draw between both hockey teams, Shetland dominated in the pool and won the swimming 59 to 38.
Shetland won the football 4-0 but was beaten in the netball 45 to 41, which was enough to narrowly win the Stewart Cup.
---
A TOTAL of 255 children in Shetland have been supported by the new child payment since its introduction by the Scottish Government.
Highlands and Islands MSP Emma Roddick said on Monday that more than £120,000 has been spent supporting Shetland families since February 2021.
"The Scottish Child Payment is just one of a raft of support payments that have been introduced in Scotland to build a social security system that is built on dignity, fairness and respect," the SNP list MSP said.
"Families in the islands are already benefitting from further support after the Scottish Child Payment was doubled in April and is set to be increased even further by the end of the year."
---
MEMBERS of the Lerwick lifeboat who have completed more than five years of service have received the Queen's Platinum Jubilee medals.
Across the RNLI, 4,500 volunteers and frontline staff have been awarded the commemorative medal in recognition of the 69,212 lives saved by the charity during Her Majesty's 70-year reign.
Medals were presented deputy Lord Lieutenant for Shetland Iain Tulloch, who has also had a 30-year personal involvement with the lifeboat.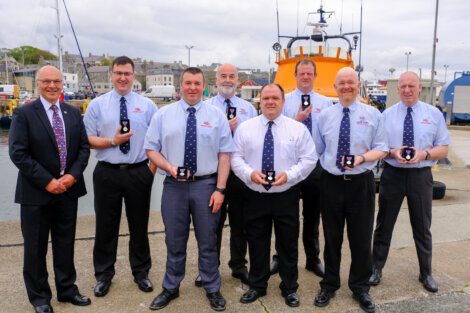 Receiving medals were crew members Gareth Geddes, Grant Masson, Michael Grant; mechanic Ian Harms; deputy mechanic John Best; lifeboat operations manager Malcolm Craigie; and deputy launch authority Ryan Leith.
Also eligible, but unable to attend were resilience coxswain Darren Harcus; second coxswain Tommy Goudie; second mechanic Sammy Drummond; third mechanic Marcus Thomason; and crew members Peter Kerr and Jacqui Murray.
---
MORE than 60 properties in the North Mainland lost power yesterday (Sunday) following a fault with a transformer.
The fault was first identified at 5.20pm, and customers had their supply restored in stages through to 2.50am this morning (Sunday).
A spokesperson for SSEN Distribution said: "We would like to apologise to our customers who experienced a loss of power yesterday evening and thank them for their patience whilst our engineers worked to restore power as safely and quickly as possible."
---
THE EXPORT of poultry meat and products (including eggs) from the UK to Hongkong has been suspended following the confirmation of highly pathogenic avian flu H5N1 in Whalsay.
The Centre for Food Safety (CFS) of the Food and Environmental Hygiene Department on Hongkong said the measure was implemented with immediate effect "to protect public health in Hong Kong".
A CFS spokesman said that according to the Census and Statistics Department, Hong Kong imported about 420 tonnes of chilled and frozen poultry meat and about 90 000 poultry eggs from the UK in the first three months of this year.
Become a supporter of Shetland News
Shetland News is asking its many readers to consider start paying for their dose of the latest local news delivered straight to their PC, tablet or mobile phone.
Journalism comes at a price and because that price is not being paid in today's rapidly changing media world, most publishers – national and local – struggle financially despite very healthy audience figures.
Most online publishers have started charging for access to their websites, others have chosen a different route. Shetland News currently has over 540 supporters who are all making small voluntary financial contributions. All funds go towards covering our cost and improving the service further.
Your contribution will ensure Shetland News can: –
Bring you the headlines as they happen;
Stay editorially independent;
Give a voice to the community;
Grow site traffic further;
Research and publish more in-depth news, including more Shetland Lives features.
If you appreciate what we do and feel strongly about impartial local journalism, then please become a supporter of Shetland News by either making a single payment or monthly subscription.
Support us from as little as £3 per month – it only takes a minute to sign up. Thank you.
Already a supporter? Sign in to hide this message.