A THIRTY nine year old man will have to wait another two months to learn his fate after sentencing was deferred for a fourth time.
John Masterman, of Leaside, appeared at Lerwick Sheriff Court on Thursday afternoon for sentencing, but his case was deferred until 14 July.
He previously admitted intentionally or recklessly touching two girls.
One of the offences, committed against a female teenager who he worked with at a Lerwick restaurant, took place between 1 and 31 August 2018.
The second saw Masterman sexually assault a girl aged under 16 in her family home on various occasions between 1 January and 22 June 2021.
The latest deferral was because a psychological report was not prepared in time, and the court heard this was down to a misunderstanding.
Speaking via video link sheriff Olga Pasportnikov said she was prepared to give Masterman the benefit of the doubt.
Due to Sheriff Pasportnikov's schedule the case was deferred until 14 July, with Masterman's bail continued.
The case was first deferred in March for social work reports, with Masterman remanded in custody.
But when it reappeared later that month Masterman had successfully appealed his remand, with Sheriff Ian Cruickshank requesting a stand-in sheriff to take his place as he felt he was no longer in a position to pass sentence.
When the case appeared again in April Sheriff Pasportnikov requested a psychological report and deferred sentence.
Space2face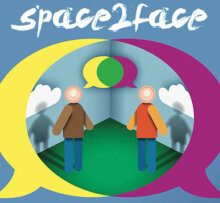 Space2face Shetland is an independent and confidential service which uses Restorative Justice and the arts to bring those harmed by crime or conflict and those responsible for the harm into communication. We enable everyone affected by a particular incident to play a part in repairing the harm and finding a positive way forward.
If you would like to reach out to us, please contact us via e-mail info@space2face.org or mobile 07564 832467.
If you would like to know more, visit our website www.space2face.org, or our Facebook page #space2faceshetland.
---
The project is also currently fundraising to secure office space in Shetland's brand-new creativity and wellness centre, The Mission. If you're interesting in getting involved, or making a donation, head over to www.space2face.org/how-you-can-help