A TEENAGER has lost his licence and been fined £1,000 after admitting to a course of driving described by a sheriff as "insane" and "absolutely unbelievable".
The male, who cannot be named because he is under the age of 18, previously pleaded guilty to dangerous driving in an incident four days before Christmas last year.
On an unclassified road and along the A970 at Sandwick, he overtook another car while his was steamed up, restricting visibility.
He repeatedly drove on the wrong side of the road, overtaking in the face of oncoming traffic and forcing others to take evasive action to avoid a collision, and overtook while approaching a blind corner.
Lerwick Sheriff Court heard last month that the 17 year old had three people in the vehicle with him during the incident, which began at around 8.50am on 21 December.
Procurator fiscal Duncan Mackenzie said the teenager had skidded into the path of an oncoming vehicle heading up the hill out of Sandwick before driving parallel to another vehicle as they both turned right onto the main A970 road.
The fiscal said he overtook at speed heading through Cunningsburgh at a time when the road was relatively busy.
Approaching a blind corner he moved out to overtake a queue of four vehicles, passing two and struggling to pass a third directly in the face of an oncoming vehicle, which was forced to make an emergency stop.
There were two young children in the latter vehicle and the driver was "considerably shaken up", while four other cars were forced to break sharply.
When the teenager was spoken to by police later his response was "I can't believe I'll lose my licence" for overtaking and "one silly manoeuvre".
Defence agent Tommy Allan said his client, an apprentice joiner who lives with his mother, had only passed his driving test five months before the offence.
He accepted the driving was "atrocious" and "smacks of immaturity, naivety and inexperience", but that his client was otherwise of good character and would pay a heavy price for losing his licence.
Sheriff Ian Cruickshank, who had previously branded the manner of driving as "insane", said it was the "second horrendous episode of driving within a fortnight".
He banned the teenager from the road for 12 months, and he will have to sit an extended test of competence before he is allowed behind the wheel again.
The sheriff added: "Young Shetlanders better start thinking very carefully about how they drive."
Space2face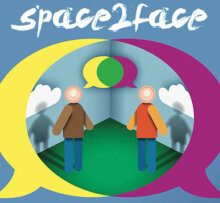 Space2face Shetland is an independent and confidential service which uses Restorative Justice and the arts to bring those harmed by crime or conflict and those responsible for the harm into communication. We enable everyone affected by a particular incident to play a part in repairing the harm and finding a positive way forward.
If you would like to reach out to us, please contact us via e-mail info@space2face.org or mobile 07564 832467.
If you would like to know more, visit our website www.space2face.org, or our Facebook page #space2faceshetland.
---
The project is also currently fundraising to secure office space in Shetland's brand-new creativity and wellness centre, The Mission. If you're interesting in getting involved, or making a donation, head over to www.space2face.org/how-you-can-help